Volume 27, Issue 1 (2017)
Abstract
|
Full-Text (PDF)
|
Graphical Abstract
|
Highlights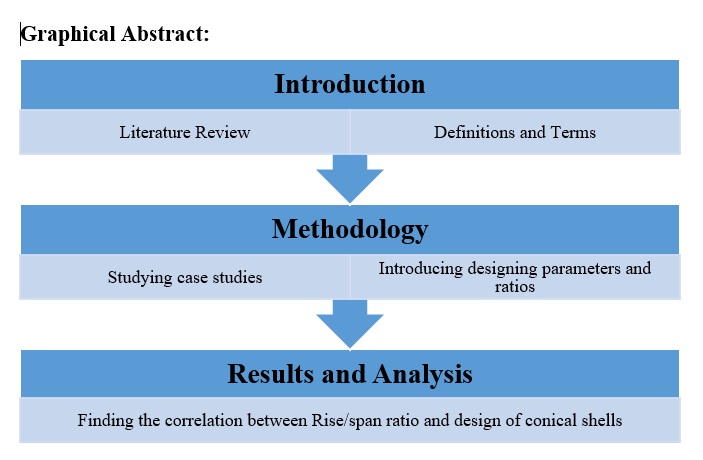 Examining how conical shells bear weight loads and resist against bending
Defining 'rise/span' ratio as a factor affecting weight loads and bending in external shells
Documenting architectural maps and dimensions of case studies
Finding a positive correlation between 'rise/span' ratio and design of stiffeners and thickness of the conical shells
Abstract
|
Full-Text (PDF)
|
Graphical Abstract
|
Highlights

Legibility, Continuity of Salient Elements, Regularity,
Interrelationship of Spatial Elements
Mental Maps
Abstract
|
Full-Text (PDF)
|
Graphical Abstract
|
Highlights
To improve the condition of the care facilities and treatment process considering standards and laws in design, essential human factors such as culture, habits, needs, and communication must be measured.
Therefore, in designing spaces compatible with the identity, habits, and the culture of each country, appropriate accommodations for developing communication among the patients, clients, and the visitors must be taken into consideration. In doing so, a higher level of relaxation and a shorter recovery time is expected.
Architectural features can contribute to older participants' stress, fear, anxiety, and worry.
Abstract
|
Full-Text (PDF)
|
Graphical Abstract
|
Highlights
Importance of POE study in research on office space.
Impact of culture on Work desk position priorities
Method of numerical analyzing using Space Syntax